A few meters from the Ignatius Ajuru University of Education, Rumuolemeni, is a major jetty, with huge passenger traffic between Port Harcourt and nearby riverside communities.
Iwofe Pier, as it is popularly called, is an old waterside market called "Minikpiti" by the people of Rumuolemeni community.
It was once a key market where many riverine communities of Tombia, Bakana, Abalama, Okrika, Kugbo in Odual, Otuegene in Ogbia, Ogbakiri, Ogbogoro and Choba sold their agricultural products in ancient times.
Today, this pier still hasn't lost its verve as it hosts all manner of commerce, especially during the weekly market days when neighboring communities bring in their wares for sale every five days.
These products include wood from Kugbo in Odual, periwinkle and fish from Abalama, Tombia and Bakana, while agricultural products like garri, cassava and yam are displayed at the mouth of the jetty.
Besides these businesses, the Iwofe pier is a major axis for those who live near Port Harcourt. No less than 5,000 people use it daily.
For example, a boat trip from Tombia is only 10 minutes from town, while Ogbakiri is only five minutes away. The same goes for the town of Ogbogoro which on land will take up to 15 minutes by taxi depending on traffic problems from St John's and/or the Rumueprikom axis.
As city traffic worsens over the years, the sea route has become more convenient for many commuters to get to their destination faster.
However, despite its proximity to the city of Port Harcourt, The Tide Metro has learned that the main challenge for sailors and passengers using this route are sea pyrates, which attack and carry passengers' belongings.
Although Godsown Jembi-Isi says maritime piracy has decreased, other interviewees say it happens from time to time.
The fire that broke out at the waterfront in Nembe-Bille two weeks ago may have contributed to increased passenger traffic at Iwofe pier.
Many boat users now find Iwofe Pier much safer and shorter to cross.
Last Wednesday's visit by The Tide Metro to the pier shows passenger traffic has increased more than before, and also many people say it's closer to town than crossing Old Port Harcourt Township , especially those doing business in the city center.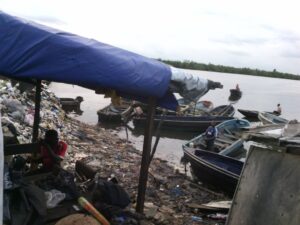 Ipalibo Ngiangia told The Tide Metro that he preferred the route rather than crossing the land. eight minutes or less, you are in Port Harcourt from Tombia".
Surveys by The Tide Metro indicate that many passengers find it cheaper and faster to use boats from Iwofe jetty to the communities of Tombia, Ogbogoro and Ogbakiri.
Passengers pay N400 in Tombia and N200 in Ogbakiri. Ngiangia said it was cheaper than that until the recent fuel shortage as he recalls paying 250 naira earlier this year from Port Harcourt to Tombia.
Ngiangia wants the government to build bridges to connect these communities, "Sometimes when we come here at night, we take risks to cross, but we have no other choice."
Beach Master, Godsown Jembi-Isi, told The Tide Metro that they had banned night trips: "We are asking boats to stop sailing the routes from 6.30pm. The only grace we give to drivers is for those residing in Tombia or Ogbakiri once it gets late.
"With the rainy season setting in, Mr Jembi-Isi said they needed a waiting room as he noted that the current one built by the Minikpiti community cannot take much time. passengers. "The rains are coming and passengers need shade while waiting for the boats."
Vote Okeh, a boat driver with over 25 years of experience, who plies the roads from Iwofe to Tombia and Ogbogoro, disapproving of the lack of safety on the sea route, "From here to Bonny River, there there is no safety boat and that is why we are at the mercy of pirates.
He revealed that even though most of the boat operators are trained and licensed by NIMASA, they still cannot prevent the threat of pirates.
Asked about the safety measures put in place to reduce accidents on the seaway, he replied: "You can prevent the level of accidents, but you cannot totally avoid them".
Apart from that he denounced the level of garbage and debris on the sea route, "Our engines are generally affected", he said, "Even the Federal Inland Waterways Agency and NIMASA don't have not yet cleared the sea of ​​waste. And that causes a lot of accidents".
On what drivers should do to prevent accidents and attacks on the sea route, he said: "Let them ward off fear when boarding; and passengers must wear life jackets in case of an accident.
For Ajetekaa George, a deckhand who controls and directs the boats, "it takes a lot of courage to travel the road".
Regarding the safety measures put in place for passengers, he said: "Life jackets are now compulsory for all passengers. If you don't want to wear it, we ask you to get off the boat.
He also said they avoid night trips to avoid being robbed at sea.
By: Kevin Nengia